Ice Climbing in Vail: Action Hero Vacation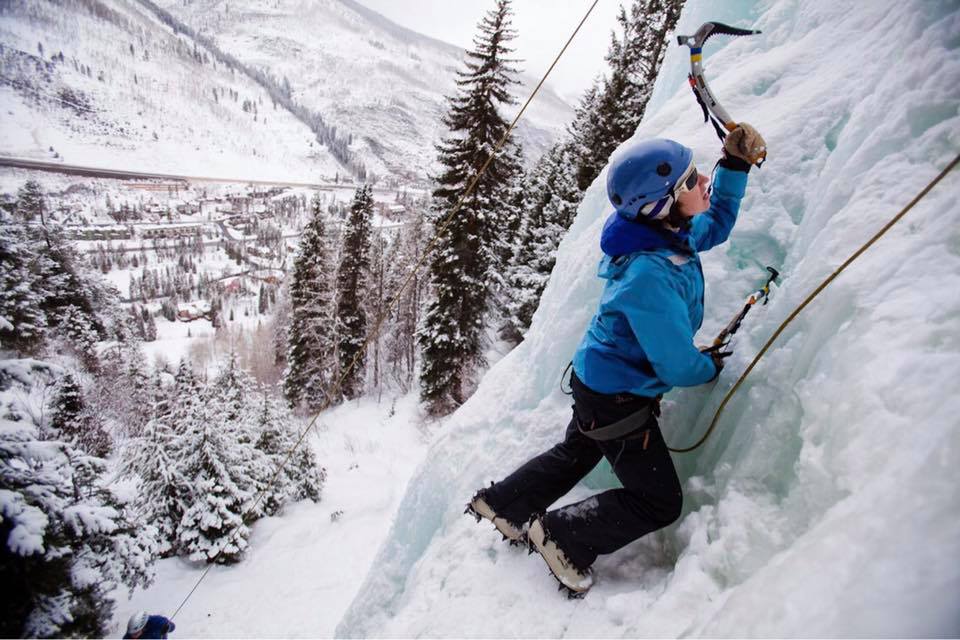 Ever wondered what it's like to be an action movie hero scaling the side of a frozen cliff? Find the enemy's secret mountain hideout and live out your favorite action movie climbing scenes. Ice climbing in Vail will be the highlight of your winter vacation.
What Is Ice Climbing?
Ice climbing uses ice axes and crampons (spiked shoes) and other specialized equipment to climb frozen waterfalls. It's thrilling, yet serene. Meanwhile, it takes you to remote locations with fantastic views. Ice climbing in Vail lets you escape the ski resort crowds and turn your vacation into an action movie challenge.
Cascading waterfalls and trickling alpine flows freeze during the winter to make surreal, fantastical formations. These short lived sculptures offer phenomenal climbing opportunities and a chance to experience a truly unique and unforgettable adventure. Climbs range in height between 30 to 100+ feet.
Given the nature of the ice, each climb forms slightly differently each year and changes throughout the season. Consequently, the same climb can be new and different every time. With expansive views of Colorado's Rockies and a chance to challenge yourself in a winter wonderland, ice climbing is like nothing you've experienced.
Apex Mountain School is a top guide service and offers ice climbing in Vail. Guides will teach you everything you need to know. So, no experience is necessary. All ages (10+), abilities, and fitness levels are welcome. Ice climbing guides can work with you to select routes that meet your needs and skill set, whether you are a first timer or an experienced ice climber.
Free gear rental: Ice climbing boots, harness, helmet, crampons, ice
tools, eye protection, gators, technical backpacks.
Easily accessible ice climbing (approach hikes 20 to 45mn).
Highly skilled AMGA (American Mountain Guide Association) certified
guides.
Instruction on proper climbing technique and movement on technical terrain.
Free snack bars and Apex stickers.
A trip tailored for your experience level and goals.
Breathtaking ice formations and scenery.
Other Winter Activities
If Vail ice climbing doesn't interest you, there are lots of other winter activities available:
Dobson Ice Arena is one of the largest ice facilities on Colorado's Western Slope. Big enough to host concerts, it's open year-round for hockey, figure skating and broomball. It offers a variety of public-skate times, classes, leagues and competitions.
Dog Sledding. There are two dogsledding tour companies nearby, roughly a half hour away. It's an incredible winter vacation experience!
Horse-Drawn Sleigh Rides offer tranquil mountain scenery and often include dinner. Photograph the snow-capped mountain vistas or enjoy the kind of stargazing you can only get in the clear mountain air.
Click here to see all available activities near Vail and Beaver Creek.