Rocky Mountain High. For Real.
Marijuana tourism is the newest way to take a vacation in Colorado.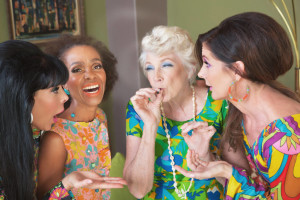 What To Expect at a Pot Shop on Your Colorado Vacation
Breckenridge, Keystone, Dillon, Frisco and Silverthorne all boast an impressive array of high-quality medical and recreational marijuana dispensaries. This is a bonus for vacationers interested in dabbling in marijuana tourism for dozens of reasons, including more competitive pricing, greater product selection and lots of useful information no matter where you end up making your purchase. A few popular local stores include Organix and Native Roots.
If you've never been in a marijuana dispensary before, the prospect might seem intimidating. But, if you know what to expect, you'll find there's nothing to be nervous about. What can you expect when visiting a legal pot shop? Let's go inside one of our local dispensaries to get an idea.
First of all there, is ALOT of security
You can't just walk in. Most likely, you will need to ring a buzzer at the door, and you'll definitely be asked to show photo ID, no matter your age. You can also expect camera surveillance as state law requires that dispensaries record who's doing the buying and selling. Dispensaries are often cash-only businesses  so they usually put extra security measures in place. Which brings us to the next point.
Pay with Cash
More and more dispensaries are starting to have the capability to take credit card payments, but just to be safe, plan on paying with cash. In an effort to make purchasing easier for their customers, some dispensaries conveniently house an ATM. Otherwise, bring your cash, not your card.
Take your time
Buying Marijuana at a dispensary is not just simply asking for some weed.
You will be presented with a  menu (like a restaurant) with dozens of marijuana strains to choose from, available in loose form (with names ranging from "Ghost Train Haze" to "Oaktown Crippler"), along with prepared edible products (cookies, candies, you name it). And that's on top of yet other products, including topical skin treatments and consumable concentrates in wax or "shatter" form (shatter is the "purest and most potent" form, according to High Times). Frankly, it can be overwhelming for first-timers so don't be afraid to ask lots of questions. The person behind the counter is there to help you.
Speaking of the person behind the counter…
That person is know as a "Budtender," like a bartender who serves buds. In the majority of dispensaries, the budtenders are highly informed professionals, trained to answer your questions to guide you through the the selection process. (In fact, they often have more in-depth knowledge than you even need, so don't hesitate to ask them for help. You'll enjoy your experience much more.)
It may be legal but it ain't free
At a recreational (as opposed to medical) dispensary, marijuana in loose form will run about $18 for one-sixteenth of an ounce — the smallest amount that the store sells — and that's before about 20% in state and local taxes. Still, cheapskates can find deals by cost-comparing from dispensary to dispensary. And some dispensaries even offer coupon savings.
And of course, souvenirs…
Dispensaries sell more than pot. They also sell pot paraphernalia, and – since you can't take marijuana back home – you can always buy a T-shirt or other memento as a souvenir.
There are a huge number of reputable dispensaries located throughout Summit County. Visit our directory of dispensaries to find one that's convenient and offers what you're looking for.
Things to Know About Marijuana in Colorado
Colorado has legalized both Medical and Recreational Marijuana. It began allowing the sale of recreational marijuana in 2014 to anyone age 21 or older.
Only licensed retail marijuana stores may sell retail marijuana, and only to those 21 and older.
Anyone over the legal age can buy marijuana without any special license. Cannabis purchases are limited to an ounce for Colorado residents while visitors from outside the state can buy up to a quarter ounce.
Buyers of medical pot won't face the additional taxes that recreational pot purchases entail. But medical marijuana requires a state red card, which can only be obtained by Colorado residents with a recommendation from a doctor.
Marijuana may not be consumed openly or publicly. Also, you cannot smoke pot in any establishment governed by the state's Clean Indoor Air Act. You're only allowed to smoke on private properties, with the owner's permission.
You must be 21 and older to buy, possess or use retail marijuana. It is illegal to give or sell retail marijuana to minors.
It is illegal to use or consume marijuana in a motor vehicle and to drive under the influence of marijuana. A motorist in Colorado can be ticketed for impaired driving if his or her blood shows more than 5 nanograms of active THC, the active constituent of marijuana. Marijuana may be carried in cars but it may not be in an open container and cannot cross state boundaries.
You cannot take marijuana through airport security or travel out of state with it.
Keep in mind that marijuana laws are constantly evolving and changing please check with www.colorado.gov for the latest updates to marijuana laws.
Marijuana Tours
With the growing popularity of marijuana tourism in Colorado, a new service has sprung up: Marijuana Tours. Tours include transportation and include a visit to one or more dispensary with a variety of entertainment and activity provided along the way. The Brews, Booze & Bud Tour in Frisco,  is a three-and-half tour that includes visits to a local distillery, a local brewery and a dispensary. There are four tours a day, and it's sure to be an experience you find anywhere else.
Designated Driver:
Commission a Group Shuttle
Summit Express offers shuttle transportation for your group according to your activity schedule. If you want to guarantee safe, reliable transportation for a Bachelor Party evening or afternoon river trip or pot shopping event, they can provide 14-passenger vans. Don't worry about a Designated Driver - you've already got one!
Public Transportation: It's WAAAAAAY Better Than a DUI
Most resorts in Summit County offer FREE transportation within their areas. The service is convenient, safe and will save you the added expense and hassle of trying to figure out parking in these largely-pedestrian destinations. For resort-specific information, check out Keystone, Breckenridge and Copper Mountain's websites!
Between towns and resort areas, the public transportation is run by Summit Stage, Summit County's easy and frequent bus service. It covers the entirety of the County, is FREE - and offers you the leisure to sit back and enjoy the beautiful mountain scenery. And you won't have to stress about the driving conditions - not your problem!