Colorado Mountain Biking: Summit County
Fall Riding Tips and Resources
Ahhhhhhh… Colorado mountain biking in Summit County in the fall can be heavenly. The temperatures are cooler, the sun less intense. The crowds have thinned, and the leaves are golden. But whether you've got your sights on Breckenridge mountain biking or Keystone, Frisco, Copper Mountain or Lake Dillon, bike riding in the fall has its own unique challenges and considerations.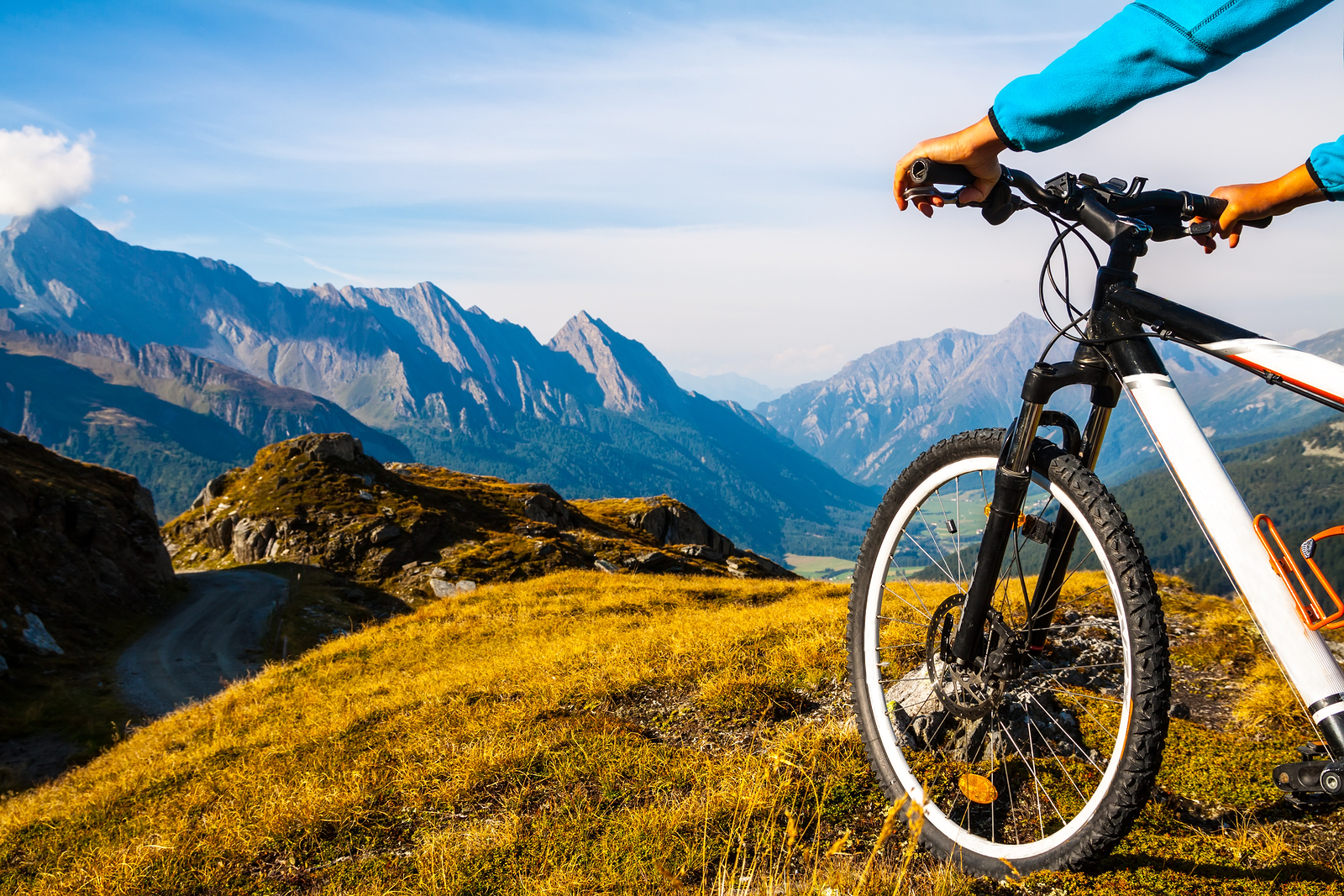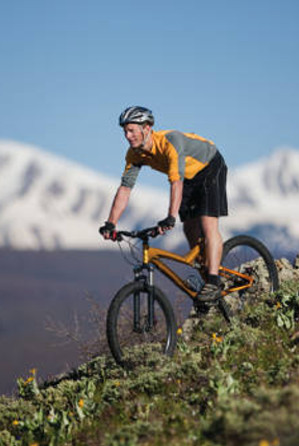 Fall Mountain Biking in Summit County: A Game of Chance
Now that we've piqued your interest, you should know that fall mountain biking in Summit County, Colorado, is a game of chance. Autumn in the mountains can offer the best conditions ever – or make riding a total no-go. In September and October in the Rockies, it may be 60 degrees and sunny or it may be rainy, sleety and grey. It may even be more like winter, with ice and snow. You never know – and that's part of what makes it fun! It's like fishing in a stocked pond versus in a natural river: the lack of a guarantee makes it more it more satisfying when you're successful.
How to Maximize Your Chances of a Rewarding Ride:
Check the weather forcasts regularly. (Always with a grain of salt.)
Have the right gear. Sometimes gorgeous days and dry trails happen when the temperatures are chilly, but if you have warm, wicking clothes (plus waterproof top layers when necessary) and dress in layers, you can still enjoy a wonderful ride.
Hydrate! Maybe you think because it's not hot you don't need to drink as much? WRONG. You always need to drink more at altitude – and even more when you exercise. Without the heat goading you to drink, it's easy to forget, so drink before you get thirsty.
Get advice and routes at local shops. Maybe a storm last week left snow high on the trail you planned to ride. Maybe there's been treefall or trail damage not evident on trail maps. A great online resource is the Mountain Project with reviews from other riders. But there's no substitute for on-the-ground local wisdom, more current than anything online.
Most importantly, be prepared to seize your opportunity when it appears. In the fall you can't just go when you feel like it: you have to feel like it when the weather says GO!
Always have a backup plan (see below) for vacation fun. There's no reason bad biking weather needs to mean a bad time in a place as fun as Summit County!
Fall Mountain Biking Tips
Actually,  just kidding. These aren't tips. They aren't even recommendations. They're essentials.
Weather changes quickly! A clear blue sky can become rain, hail or even snow with almost no notice. Regardless of what the weather reports say or what the clouds look like when you leave. ALWAYS have emergency warm clothes and some snacks on a bike ride, even if you're traveling light.
Let someone "in town" (i.e. not on the ride) know your route and ETA. This is standard Best Practice for any wilderness sport because you never know what could go wrong. Even a flat tire might leave you far from civilization after dark, so let your friends know when to expect you back and where to look for you if you don't show.
Do not ride muddy trails. If the trails are damp, you can ride. If your tire sinks into the trail, you CANNOT. Not only is riding in mud not fun (and very dirty), but it does damage to the trails that can take months to repair.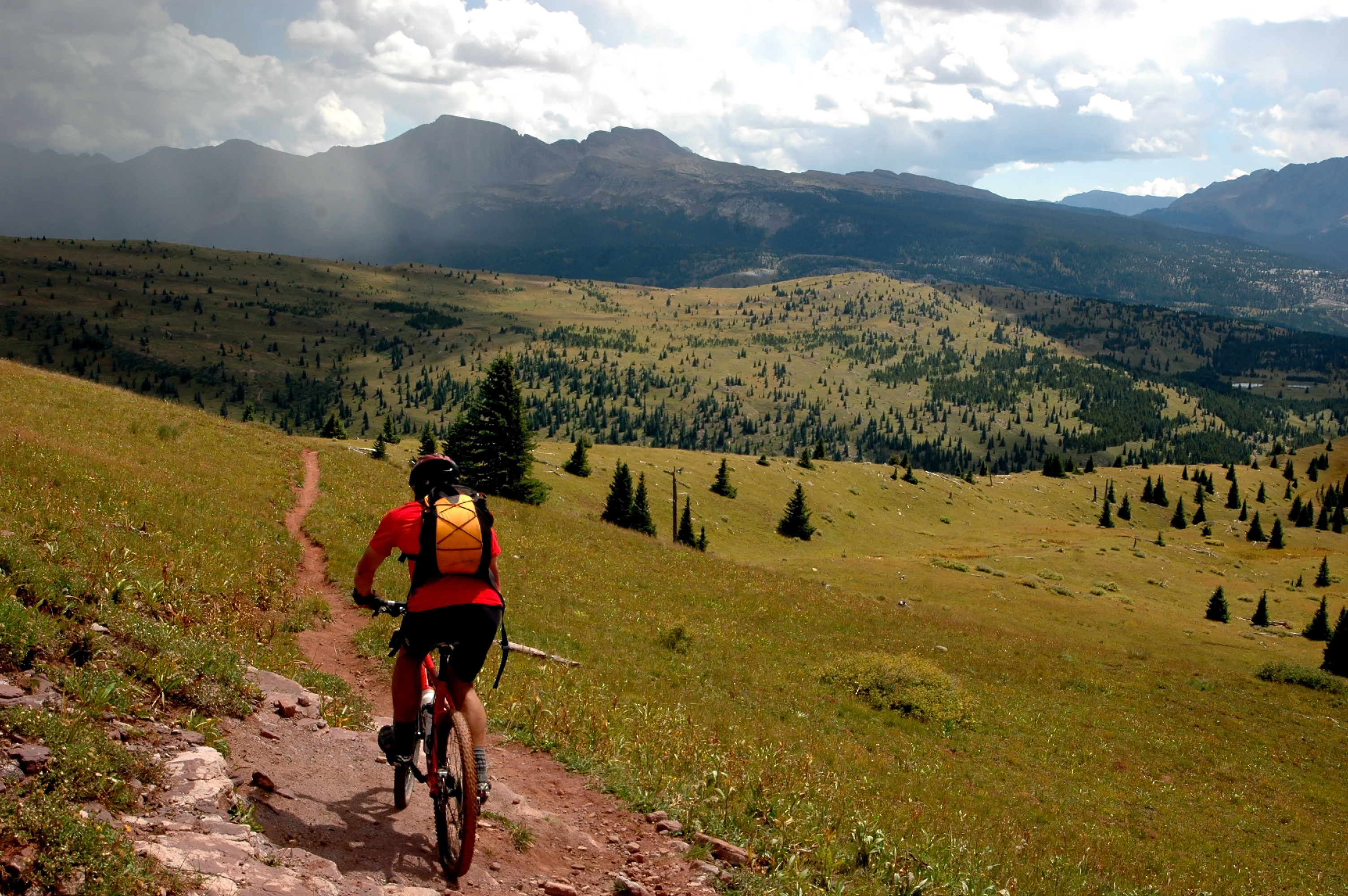 Colorado Mountain biking rentals & guides
From Keystone to Copper Mountain – and every town in between – you'll find no shortage of bike rental shops. Rentals are usually available for half-day, full-day or multiple days and cover an assortment of bike styles and sizes.
ithout a doubt, all these shops are staffed by local biking enthusiasts who can suggest trails, give you updated info on riding conditions and more. You can also pick up nutrition and hydration products, sunscreen, socks or any other biking essentials you don't have with you.
For our directory of Summit County bike shops, check here.
The Backup Plan
Muddy trails? Snow and rain? Who cares? You've got a backup plan! There are literally countless activities available in Keystone, Breckenridge, Frisco, Dillon, Silverthorne and Copper Mountain.
Summit County Bike Paths
If your heart is set on biking, consider a ride on one of Summit County's paved recreation paths. Even in light rain or snow, these rides can still be fun and beautiful. One of the most popular rides is the Vail Pass to Frisco path, which passes Copper Mountain and offers some stunning, high mountain scenery without getting off pavement. Shuttles are available from most of the bike shops in our directory.
Indoor Activities
Bad weather doesn't have to dampen your vacation. Here are some indoor options that are surefire crowd-pleasers…
Escape Rooms! Imagination, problem-solving, family bonding! Escape Room Breckenridge and Mountain Time Escape Room are two great options in Breckenridge In Frisco, check out Frisco Escape Room!
Local Recreation Centers keep kids busy and offer workout amenities like cardio machines and weights for adults. The Breckenridge Rec Center has a huge indoor rock-climbing wall, many pools and a large, super-fun water slide. This place is a dream for parents and kids alike. Similarly, the Silverthorne Rec Center is more like a water park – with four pools and a 140-foot spiral slide!
Ready Paint Fire, with locations in Keystone and Breckenridge, provides all the supplies you need – plus expert instruction – to paint your own pottery or other types of artistic exploration. You'll get to enjoy a creative activity with your family or friends. Plus, you can take home an original creation to remember your vacation.
Ice skating! It's like riding a bike: you never forget how. The Stephen C. West Ice Arena in Breckenridge is open year-round. It offers skate rentals and open skate or lessons – or go watch an adult hockey league game for free.