Aspen: Your Summer Events Destination
From sports enthusiasts, to music lovers, to Foodies and families, Aspen offers intriguing and exciting events all summer long.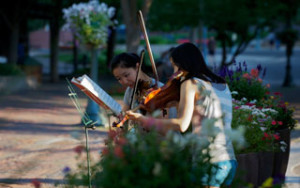 Cultural events that enrich the mind, body, and spirit are what the summer season is all about in Aspen. Music aficionados will revel in the Aspen Music Festival which features more than 300 classical music events—including concerts by five orchestras, solo and chamber music performances, fully staged opera productions, master classes, lectures, and children's programming. Plus educational opportunities for talented new musicians.
Cochon555's Heritage Fire Snowmass spotlights dozens of the nation's top chef talents roasting heritage breed animals and sustainable seafood over roaring fires in a spectacular Colorado vacation setting. Dry-aged beef, whole pigs and lambs, goats, lobster, oysters, rabbit, duck, entire fishes, chickens, and heirloom vegetables – global grilling cultures and native spices serve as the inspiration for this afternoon of culinary decadence. The hand-crafted theme extends to drinks like the Smoked Old Fashioned featuring Breckenridge Bourbon and The Manhattan Project presented by Poached Jobs. Sample Tiki punches and cocktails made with the historic bitters and luscious rums of Angostura as well as a Courvoisier Cognac neat tasting paired with hand-crafted chocolates. A free-flow selection of artisanal wines, craft beers, and luxury spirits adds to the festivities.
(If you love food, especially at a beautiful Colorado mountain resort, also check out the Aspen Food and Wine Classic!)
The Aspen Ideas Festival is the nation's premier, public gathering place for thought leaders from around the globe and across many disciplines to engage in deep and inquisitive discussions of the issues that shape our lives and challenge our times.
Jazz Aspen Snowmass (JAS) features world-class jazz, blues, and soul music. Come and listen to some of the best artists and performers of our time surrounded by the beauty of the Colorado Rocky mountains – during the 3 day June event or enjoy the free concert series all summer long!
Can't get here during summer? Here are a few of the equally cool year-round programs:
The Aspen Art Museum constantly has amazing art exhibitions going on throughout the year. This winter, there are a number of exquisite artists showcasing their pieces including:
The Aspen Music Festival & School hosts various concerts throughout the winter season at the Harris Concert Hall.
ACES: Aspen Center for Environmental Studies leads tours, hikes, nature and educational programs for individual and groups at multiple campus locations around Aspen and Snowmass.
Want to know more about what's going on during your vacation or schedule your visit to coincide with a special event? Use our comprehensive and current calendar of events!
Easy. Visible. Online Marketing.
$9.99 per Month
or Save $20 a Year!