Aspen: Your Summer Events Destination
From sports enthusiasts, to music lovers, to Foodies and families, Aspen offers intriguing and exciting events all summer long.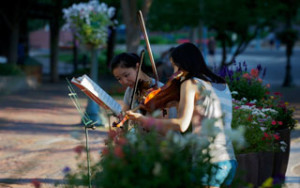 Cultural events that enrich the mind, body, and spirit are what the summer season is all about in Aspen. Music aficionados will revel in the Aspen Music Festival which features more than 300 classical music events—including concerts by five orchestras, solo and chamber music performances, fully staged opera productions, master classes, lectures, and children's programming. Plus educational opportunities for talented new musicians.
The Food & Wine Classic features the world's most accomplished winemakers, celebrity chefs, and culinary experts, brought together in one breathtaking setting. Don't miss the opportunity to experience the pinnacle of good taste, the chance to mingle with stars, and enjoy a pleasure-packed weekend at the base of spectacular Aspen Mountain.
The Aspen Ideas Festival is the nation's premier, public gathering place for thought leaders from around the globe and across many disciplines to engage in deep and inquisitive discussions of the issues that shape our lives and challenge our times.
Jazz Aspen Snowmass (JAS) features world-class jazz, blues, and soul music. Come and listen to some of the best artists and performers of our time surrounded by the beauty of the Colorado Rocky mountains – during the 3 day June event or enjoy the free concert series all summer long!
Can't get here during summer? Here are a few of the equally cool winter events:
Want to know more about what's going on during your visit or schedule your visit to coincide with a special event? Use our comprehensive and current calendar of events!